New technologies and car hire. How these are affecting car rental companies. And how they are adapting to these changes.
The car hire sector has undergone phenomenal transformation in the last decade. Shifts in consumer behaviour coupled with new technologies and the smartphone revolution have seen the rise of new subsets in the ground transportation sector. Ridehailing, ridesharing and carpooling businesses have joined car rental, rail and bus in this sector digital first, forcing existing players to innovate.
Today's consumers want fast and frictionless solutions to satisfy their travel needs. As the new entrants in ground transportation are innovating intensely to capture a bigger share of this market, failure to adapt by the car rental sector could put a dent in this market. So how are car rental companies embracing technological advances to stay relevant and can the benefits of such technology touch both operational processes and customer experience?
Current issues with car hire
For most travellers, renting a car is a cost effective and convenient method of travel, with many businesses offering a variety of models at discounted rates. However, for a few, renting a car can also be a cumbersome experience.
Waiting in line for an hour after a long flight, painstakingly selecting options from a checklist at the rental desk and finally realising the 'roomy' economy car waiting at the collection point was not what was reserved for your family of 6. Price inclusivity can be another issue with some consumers giving the thumbs down to lack of transparency and the added pressure to buy extras like damage waiver insurance.
The internet has revolutionised how consumers communicate and engage with brands as well as to each other across the globe. Car rental companies have to take note as online review platforms like Google not only publicise positive reviews but also bad customer experiences.
Businesses can't afford to be complacent when it comes to serving the public demand for a more convenient rental experience. 
After all, unhappy customers will seek alternatives for their vehicle requirements. It's no longer about renting cars but providing a mobility solution to allow people control of their time and destination.
The car hire industry is one which is intricately tied to the growth of the travel and tourism industry. So, as the digital revolution sweeps the hospitality sector, technology could also leave no stone unturned when it comes to car rental.
The industry is addressing the all too familiar pain points faced by business and leisure customers alike and it is keen to bring the car rental experience into the digital age.
The smartphone revolution
The smartphone has fundamentally reshaped the hospitality sector. Consumers are using apps to view and book holidays on the go and the car rental industry is realising that the future is mobile driven. 
'As a company we believe that our future will be mobile driven. In many cases, apps are already the lens through which we experience the brands we deal with and in future our every business interaction will be driven through smartphone technology.'

Lance Smith
More and more car hire companies are innovating to reinvent rental by putting customers at the centre and providing ways to make their rental experience better.
Modern mobile apps have the functionality to select a price point, make and model of car, extras like GPS, bike racks, car seats or mobile Wi-Fi, and then allow users to make their booking.
Historically, key management has been an issue for both rental operators and the consumer. Rental agreements have to be signed before a key is issued and car hire companies need to be sure the key is returned.
Keyless technology is now allowing customers to remotely gain access to their vehicles from their mobile devices and enable the ability to start the vehicle as well.
Connected car technology
Connected car technology and cars-as-a-service (CaaS) are the new buzzwords, synonymous with the shift to demand for more mobility and flexibility. The benefits to consumers are obvious and to operations, the positives can also be seen in terms of improvements in the back end.
Connected technology allows companies clear insight into how many cars they have, where they are and vehicle status. All of this facilitates vehicle recovery and asset management and in the future will minimise the likelihood of vehicle failures thanks to predictive analytics technology.
New business models are being created thanks to connected car technology. In today's market, consumers typically collect a vehicle from an airport or a designated facility at limited off-airport locations. But with remote access technology, the potential for new partnerships between rental companies and hotels for instance is further extending the car rental footprint.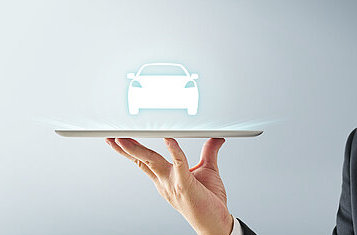 Ridesharing
 If you can't beat them, join them.
Many consumers and business travellers are turning to ridesharing services for simplicity and convenience when previously they would have booked a car rental or taxi. But is the car rental sector in danger of being muscled out of this market by the ridesharing heavyweights? 
Newcomers like ridesharing services have disrupted the auto industry's business model by offering customers an alternative to vehicle ownership through smartphone-based ridehailing services.
As innovation continues to evolve in the car rental industry, some rental companies are viewing themselves as platform and technology providers, looking to reduce the private ownership of passenger vehicles.
It's all about the customer
 Seamless bookings and payments innovation
Search behaviour is now changing the way that car rental brands are being found and companies across the globe are trying to create a better experience for their customers. At the heart of this transformation is the 'in-destination experience'.
The seamless integration of car hire services into travel and tourism bookings means booking engines are creating a 'travel experience' to car rental bookers by offering highly targeted offers on tours, hotel rooms and more. This not only creates the travel experience but also incentivises a further purchase.
Providing the right payment solution which supports the right payment methods to meet the needs of both the customer and the business is another consideration for rent a car companies competing in the consumer and business rental markets.
Customers now have the option to split their payment by total bill amount and rental days. For business travellers, they no longer have to worry about the blurring of lines between leisure and corporate travel expenses.
Leisure travellers and business travellers also appreciate visibility into travel spend when abroad. Some business travellers may find opting to pay in their home currency for rental, via Dynamic Currency Conversion, a more effective and convenient way to track expenses and stay within budget as it means the exchange rate is calculated at the point of purchase.
Looking to increase revenue from existing transactions whilst improving your customer experience?
As well as offering transparency and choice to its customer in their home currency, car rental companies are also realising that offering multi-currency pricing and dynamic currency conversion generates a new source of revenue for their business from existing international transactions.
Self-driving vehicles
Imagine a car being able to navigate without human input. There is tremendous excitement at the emergence of driverless cars but for many countries the uncertainty remains around how to approach this potentially game-changing advancement.
This hasn't stifled the enthusiasm from a number of rental companies who are beginning to explore partnerships to support autonomous vehicle development in a bid to become early adopters of the technology.
Ridesharing services has been at the forefront of the introduction of autonomous vehicles and in September 2016 it launched its first self-driving vehicle.
One thing is certain though, before totally autonomous vehicles can be introduced, numerous technological, regulatory and ethical issues need to be resolved by manufacturers and politicians.
To fit into the new on-demand lifestyle of consumers, car rental companies need to continue to invest in technology to provide personalised service and convenience. Customers are no longer just looking for good customer services and great rates. They want a service that is designed around them, when and where they need it. Only time will tell if the car rental industry can keep up with the technological changes brought about by ridesharing services. One can argue that car rental fills a space that ridesharing services can't. Longer duration road trips, for example, can be served by car rental companies. This sense of freedom where one doesn't have to order a ride influences many in the decision to rent a car.
There is also the safety factor associated with ridesharing and car rental could also be a better option for the less tech- savvy customer. It is doubtful that the car rental industry will succumb to the new entrants but it will have to adapt to service the needs of an ever demanding customer.